1. Introduction
In today's fast-paced digital world, speed matters a lot. After all, a fast-loading website provides a seamless and satisfying user experience. Whether you are a small business owner or running a firm digitally via Big Cartel, a website's loading speed is crucial to maximizing the audience retention rate.
Hence, in this write-up, we have walked you through the complete guide on Big Cartel Speed Optimization. This blog is a bowl of all the information belonging to Big Cartel, like what it is, how it works, and last but not least, how to process Big Cartel Speed Optimization.
2. What Big Cartel Really Is?
Big Cartel is an online platform that allows you to sell your products digitally worldwide. Individuals from any background and field who want to run or start an ecommerce business without having much control over the technology can easily operate it.
It is one solution and platform to manage all business-related operations, including inventory management, staff control, pricing, sales, processing orders, collecting payments, etc.
To create a unique brand identity, people use this platform that offers multiple features and benefits and helps create a visually appealing online store. Big Cartel operates a bit differently than other online platforms, which makes it stand out from competitors and facilitates reduced website loading time.
3. How does the Big Cartel platform Operate?
Big Cartel is a hosting server from which you can start or open your store without downloading a separate server. It allows you to access multiple services simultaneously by buying its subscription plan.
It offers different themes and numerous interfaces from which you can select as per your need and customize your store's appearance. You can add multiple products and categorize them into groups, providing space for product descriptions.
Thus, this is the way BigCartel works. Likewise, all platforms, Big Cartel, also have pros and cons that help users make up their minds to choose it from a container of hosting providers.
Want to read this blog offline?
No worries, download the PDF version
now and enjoy your reading later…
Download PDF
4. Pros and Cons of Big Cartel
These are some of the prominent advantages of using Big Cartel that help you in the Big Cartel Speed Optimization process.
Pros of Big Cartel
Standard Templates:
Big Cartel provides 16 big templates for free. Themes come with the names Setlist, Roadie, Foundry, etc. All the templates are flexible to manage and show the same on all the screen types.
Whether a customer is accessing your store from a phone, laptop, or computer, it will be visible in the same format with a user-friendly interface. Multiple themes will resonate well with the type of business you are running.
Feasible Intersection:
Big Cartel provides a simple and user-friendly interface where people don't have to hassle visiting different services and can easily shop or purchase a product.
The navigation menu has additional options, including exchange, set up discount, change account settings, basic analytics, add effects, etc. This easy-to-use platform helps reduce website loading time.
Technology-friendly:
According to the data, nowadays, shopping has become a go-to choice for individuals rather than visiting a physically located store, and the analysis also shows that shopping is done using a smartphone.
Thus, Big Cartel is updated with this format, allowing its users to shop using their phones. On the contrary, merchants can also operate their digital store via any preferred device.
Personalized:
Using Big Cartel, you can customize your store with different themes and templates. Also, you can add images, videos, descriptions, and hyperlinks to redirect them to your distinct product, and you can add social media accounts, so buyers will feel engaged with the company.
It also provides depth documentation from which users can take a reference during any glitch they face.
Admin panel and statistics:
Running an online business is not limited to providing services digitally, but it also includes managing customer details, the revenue you are generating, top products you are selling, users' experience, etc. To address these functions, you require a metric system.
Big Cartel dashboard helps you manage your activities with metrics and statistics. The Big Cartel control panel includes all essential data like the conversion rate, visitor statistics, trends, product and category analysis, and analytics using the Google integration system.
Virtual classes:
This feature allows you to attend live classes organized by Big Cartel that provide information on how to set up an online store on Big Cartel. They can record the live session to watch it later. Currently, it offers five different virtual sessions on shipment setting, account setting, adding a service, creating an offer, and lastly packing your products.
Advanced security:
Big Cartel allows you to change your password at any time, and SSL security protects your store from a malicious attack.
Application and aggregation:
Big Cartel provides a maximum of 10 applications and integrations for marketing, shipping management, payment processors, store regulators, domain providers, and manufacturers.
Adding and exporting products:
There are two basic methods of adding products to Big Cartel; the first is to add them using a CSV file, and the other is to import them manually with Big Cartel's interface. There is no single way to export products directly from your Big Cartel store, but you can use specialized tools to perform this task.
These advantages of Big Cartel make it a suitable choice for merchants who desire to start an online business. Additionally, it has some limitations that influence users' minds.
Cons of Big Cartel
These are some disadvantages or limitations of Big Cartel.
Limited Personalized Option
Big Cartel offers a limited number of templates and features for free that cap users' preferences. Customization features that are widely used are only available for a fee.
High priced
Big Cartel costs a high price to avail its features. And charge extra money while adding more photos and videos. Big Cartel is more expensive than other digital platforms.
Confine features
It provides minimum features in the area of Shipping API integrations, Stock monitoring, Payment gateways, and Optional features. Users felt they needed more features in this platform that are already available in others.
Product selling
In Big Cartel, the maximum number of products you can sell is 500, which is a big limitation of it.
Privacy and security
Somehow, Big Cartel lacks data security and doesn't provide advanced privacy features.
Moreover, these are the major limitations of Big Cartel. Apart from this, Big Cartel provides different plans to its users, from which they can opt for a particular one per their requirements.
5. Big Cartel Purchasing Plans
The plans offered by Big Cartel are quite impressive and allow them to access facilities based on their subscription. These are the three plans offered by Big Cartel:
Gold (Free) — $0 per month.
Platinum — $9.99 per month.
Diamond — $19.99 per month.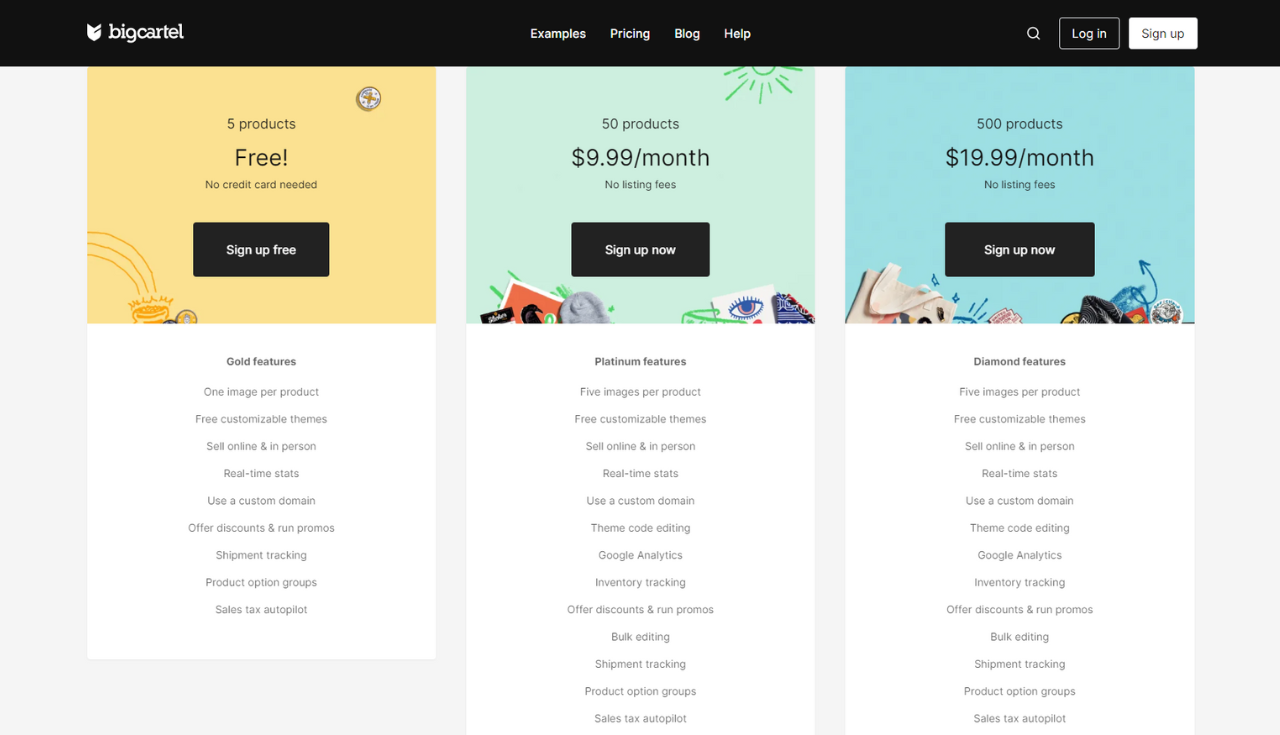 Big Cartel is one of the famous stores that allow you to access its minimum services at zero cost, meaning you don't have to pay a single penny to use its basic services. In the Platinum plan, you have to pay $9.99 per month to get access to its superior features. Hence, the last and the prominent plan is the Diamond plan, where you will get all the facilities in one click and will be able to manage it comfortably
All these plans have some similar functionality, using a custom domain, offers, and discounts, selling online or in-person. Additionally, using a free plan, primarily known as the gold plan, will limit you to basic services like you can't sell more than five products at a time, cannot edit site code, and cannot track inventory or add Google analytics.
Therefore, you should know exactly what BigCartel Speed Optimization is and how to perform it to reduce website loading time.
6. Elevating Your BigCartel Store with Speed Optimization
Big Cartel speed optimization refers to implementing various strategies and techniques to enhance the performance and loading speed of your online store operated on the Big Cartel digital platform.
Multiple ways can be used for Big Cartel speed optimization, including minimizing codes, leveraging caching, compressing images, and using employee server optimization Merchants can increase revenue, generate more sales, reduce bounce rate, and enhance user experience.
7. Methods or Techniques to Reduce Website Loading Time
Thus, we have mentioned tips for optimizing your Bigcartel website., These practices will help you achieve your goals of a fast-loading website.
Compress Image:
The most efficient way to increase your loading time is to reduce your image size. You can cut images borders or crop them, or else resize them for faster Big Cartel speed optimization.
Enable Browser Caching:
Configure website caching settings and allow browsers to contain certain information, so it will eliminate the need for reloading it on a regular basis.
Implement CDN:
It is a reliable choice to deliver content worldwide using a content delivery system that ranges from the nearest server to the user's location.
Limit CSS and JavaScript:
Eliminate unnecessary whitespace and unrequired codes from JavaScript and CSS to reduce website loading speed.
Add-on Lazy Loading:
Load images only when it comes to users' view or when a user scrolls down. Various plugins, scripting tools, and third-party apps facilitate this function.
Gzip Compression:
Diminish the size of your file using Gzip so it will be easy to load a document instantly on a website, additionally, it will boost the loading speed of the store.
Monitor and Analyze:
Use tools like WebsiteSpeedy to monitor your website's performance, identify bottlenecks, and implement crucial optimization.
Eliminate Third-Party Scripts:
Limit the use of external scripts and plugins, as they can affect the performance of online platforms. Try to rely on customized options.
Activate Accelerated Mobile Pages:
Using Google accelerated projects offers a seamless working experience on all devices, including mobile, which witnesses high search queries.
Reduce Redirects:
Minimize the implementation of interlinking, where you link a web page with the link of another website to get an instant click. But it might slow down your website's performance. Since each redirect sends a request to the server, try to add a direct link and limit the count of HTTP redirects.
Delayed JavaScript:
Defer waits to run until the whole page gets loaded. It optimizes to load essential data first and engages users' experience.
Minimize Resources:
It basically eliminates unrequired data from the container without disturbing the website's performance. Hence, it includes the minification of HTML code and CSS files.
Streamline Loading:
Instead of adding an external file, directly put your CSS code inside your HTML file. This process reduces the number of files the browser processes to download before showing the web pages.
This practice must be different from what you used to do, but it aligns well with Google's goal of making style sheets minor, as well it will help your website to rank higher in search engine result pages. Maximizing your Big Cartel store's speed is essential for making an impressive impression on users.
The methods discussed above are required to perform manually, which includes techniques like browser caching, script optimization, CDN integration, etc. If you don't have enough time and resources to perform these tasks, consider opting for a professional tool like WebsiteSpeedy, which offers advanced features and improves website loading time.
8. Big Cartel Speed Optimization With Our Tool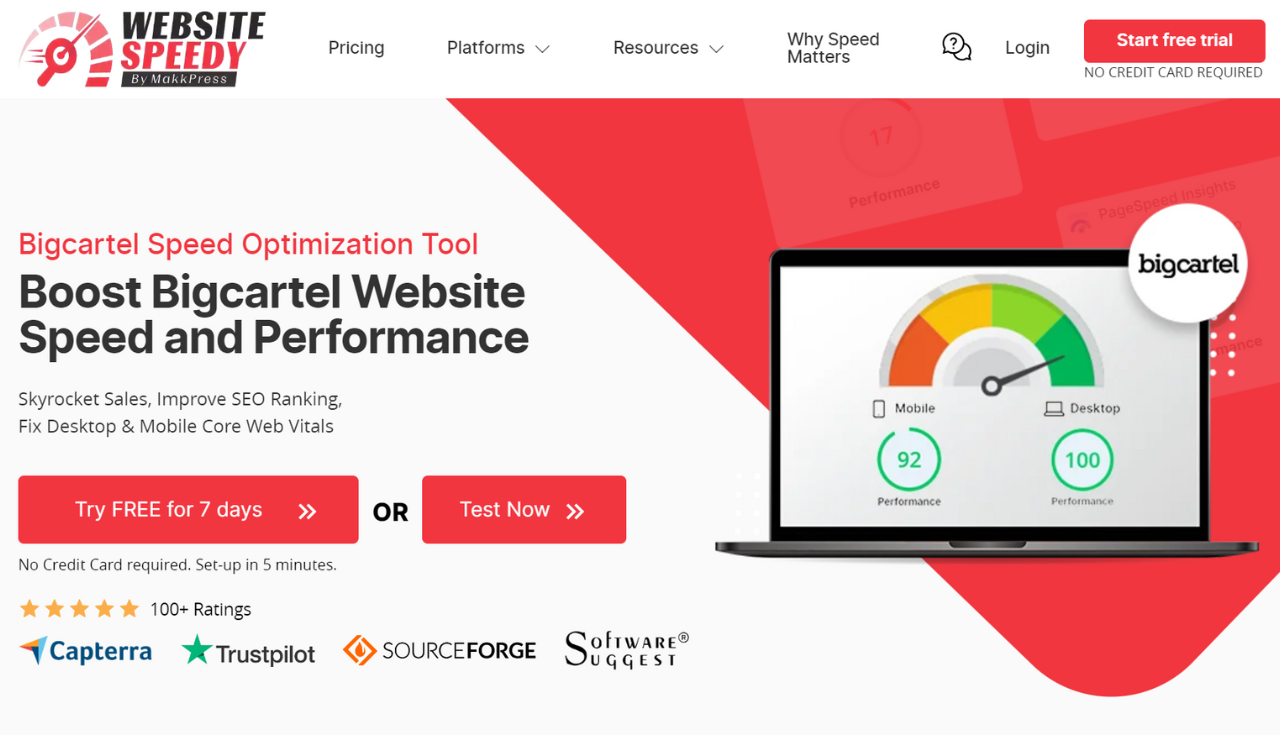 Website Speedy is a SaaS solution that offers a wide range of features specially designed to accelerate an ecommerce site's loading speed. By implementing the tool's automatic script into your digital store, you can easily monitor or oversee every aspect of your website, including the homepage, product page, etc. Our advanced tool eliminates render-blocking, confronts core web vitals, lazy load images, and beyond that impulsively boost website's loading time, and spur your business to new insights.
9. Conclusion
To sum up, Big Cartel speed optimization is essential to creating an efficient and successful online store. Applying techniques like CDN integrations, Browser caching, utilizing speed optimization tools, etc., you can critically magnify your website's speed, intensify users' engagement, and increase the conversion rate. In the end, it is all about making your website or store efficient for the customers or visitors.
Please follow and like us: